BIFF Offscreen
BIFF Offscreen: Silent Signals
BIFF Offscreen: Silent Signals is on view sunrise to sunset in the building front of 499 Franklin Street, October 5 - 9, 2017.
Selections include (in looping order):
One Minute and Forty Seconds for Anna (Barbara Lattanzi) is a hand-coded computational video that visibly references color field painting (circa 1960s, NYC) and its search space of pigment flow interacting with surface roughness.
Blue. Glitter. Slow. (Natalie DiIenno) is a gesture akin to grazing the aesthetic sublime – this video is an abstract reflection of those experiences of bodily displacement that facilitate a removal from the world as we know it.
Ception (Alice Alexandrescu, Yu Fayefaye & Shasti O'Leary Soudant) – in the process of absorption, the sponge contracts on itself, creating in itself a kinetic potentiality, a vacuum that must be filled once the compression reaches its nadir. It is the cycle of inhalation and exhalation, of inspiration and expiration. Out with the old, in with the new: the present, ad infinitum.
This elasticity, this capacity for yield, speaks of the yin in Chinese Taoist philosophy; that which is dark, that which is resilient, that which is female. The traditional Chinese vision of woman is the embodiment of softness, wetness, darkness, the cavity. That cavity has a purpose.
A contraction is a preparatory step in the act of creation.
Emergence (Jason Bernagozzi) explores the tension between violence and intimacy at a small town pro wrestling match in Johnson City, NY. As the wrestlers engage in their dramatic struggle for dominance, the frame difference processing analyzes and exposes the intricate details of their movements, expressions and interactions. The artist frames the archetype of the pro wrestling match as a tension between consensual physicality and the performance of masculinity. *Event image (still from Emergence) courtesy of Jason Bernagozzi.
Shot in Cuba, TIME (Liz Chow) is about time.
Restoration (Debora Bernagozzi) – in a cemetery in Malaysia in 2012, multiple grave photographs were smashed by people attempting to steal the metal behind them. An attempt was made with Photoshop to restore of the strangers' faces. This is the first of a series of three videos.
Suspension Landscape After the Drought: Camera Views Episode Three (Rebekkah Palov) is an episodic video piece wherein rotating forms in orbit are apparently without any gravitational mass. Episode three is a stereo image floating in locked-time with false changing perspective, color and horizon. The appearance of a mouse cursor and X,Y,Z, Spherical coordinates breaks the false-illusion of a non-reality day cycle. The title references a sort of suspended state of emptiness, stasis found after a "drought", a non-fertile period and could be an allegory for an estrangement or fascination in stuck-living and unknown futures.
In Lizard Bites Back (Tessa Rex & Patch Sinclair) a haze of Super8 captures the Lizard Bites Back 'protestival' at Olympic Dam uranium mine, Roxby Downs, South Australia. An activist reads the names of nuclear testing sites. The lizard enters.
All pretty maids with patience wait (Carolyn Tennant) is an experimental video that uses a looped fragment of Kodachrome documentation of Balloon Day 1962, sampled from a newly digitized collection of home movies made by Muriel Orr-Ewing (1900-1994). The title is taken from a Cornish folksong "I Love My Love" arranged by British composer Gustav Holst in 1916: "All pretty maids with patience wait that have got loves at sea; I love my love because I know my love loves me!"
A View with a Room (Jessica Dolence) is a video montage of moving wallpaper and transitional scenes, which consider the relationship between decorated virtual interiors and Cyberfeminism. Historical cultural trends from the Victorian Era to contemporary cyber sub genres like Sea Punk are referenced throughout, as the rooms push and pull from the extension of space created by a digital world. Ambient and subliminal, wallpaper forces the background to become the subject initiating a conversation about gender, virtuality, and ways in which feminism continues re-define itself through technology.
In Debt Tide (Sophie Hamacher) four young women explore a coastal landscape. Their carefree wanderings are intermittently interrupted by the realities of the aftermath of the 2008 financial crash. As a celebration of youth and friendship, this short film is also a fragmented meditation on debt and a playful reflection of innocent rebellion. Excerpt.
Post-it Manifesto (Jason Livingston) is a 22-year-old, Hi-8 lo-fi video meant to have some fun with the format of the manifesto, wondering what kinds of grand claims could be made in an era of posts. Who would have known so many posts would return in the Facebook age?
cosmologies 1 (Dietrich-Olivier Delrieu-Schulz) experiments with photocopier as camera.
TETON (Jessica Earle) is part of an ongoing series of animated sketches. In place of a sketch book, these digitized thought fragments are used to capture ideas for future expansion.
Unfinished Abduction Video (UAV) (Keith Poplawski) is a work in self-progress desert pilgrimage documenting a search for solitude gone haywire. At the end of the industrial era, our protagonist finds itself questioning the evolving lines between memory and the ephemeral. Was this by design? And whose design was this? Shot with a circuit-bent PXL-2000 on Audio Cassette.
Bloodroot (Anna Scime) is a poem about gratitude, language, and friendship. Yeh-gwaw-reeh-who-waw-ta-theht Ne-we-dee-kweh-jawks-ooye. Excerpt.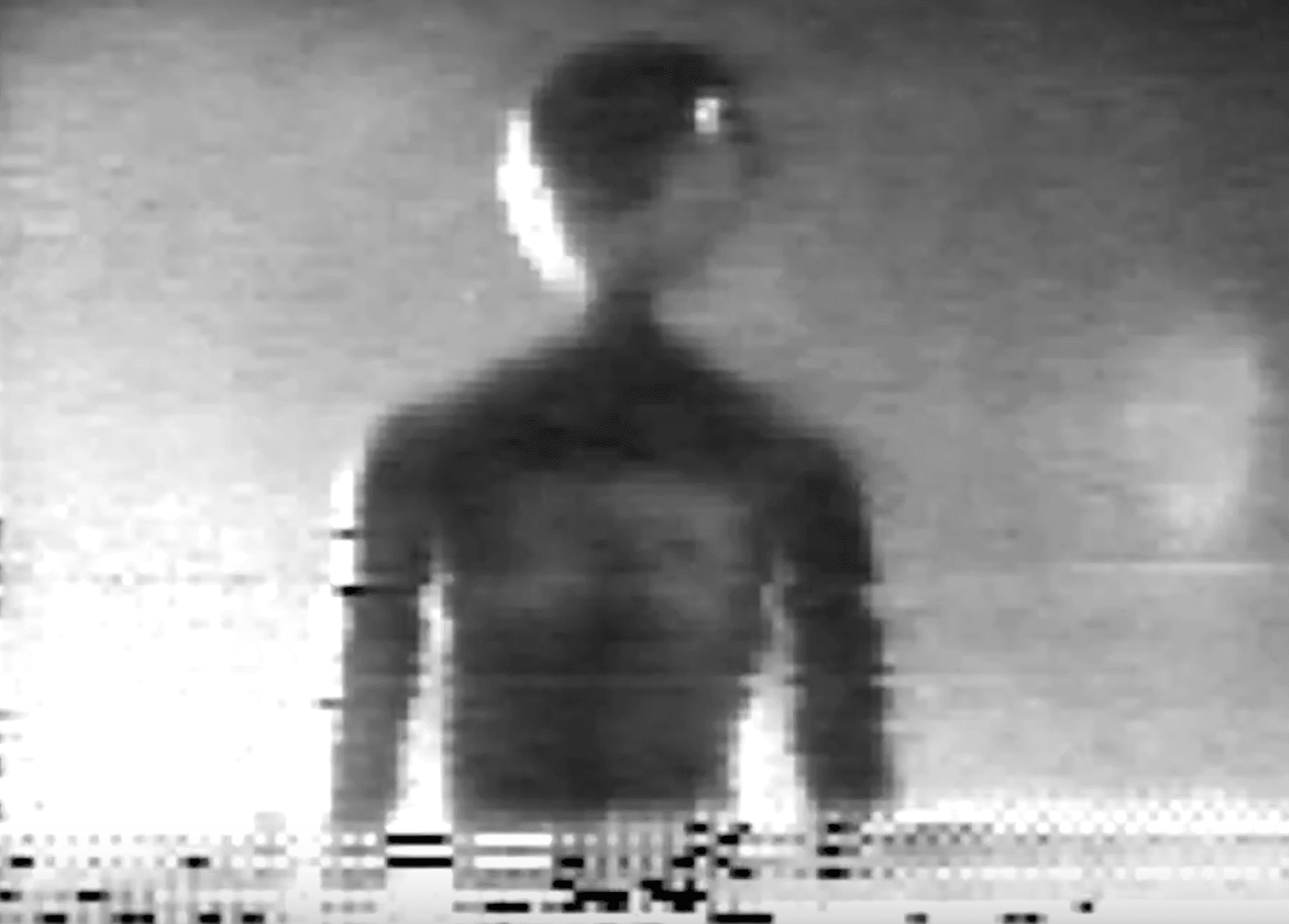 Still from Unfinished Abduction Video (UAV)
Directed by: Keith Poplawski