BIFF Offscreen
BIFF Offscreen: The Flicker
The Flicker
Tony Conrad (Dir), 30 minutes, USA, Special Offscreen/Onscreen Presentation
In this quintessential structural film, Tony Conrad invites his audience to watch with eyes open or closed. Composed entirely of black and white frames (title cards and warning aside) this stroboscopic experiment has inspired countless others and gave birth to perhaps the most recognizable of all experimental film tropes. The brain is a screen and the image is nausea for some, frisson for others. Experience it as intended – on 16mm film projected in a pitch-black theater!
Please note that no physician will be in attendance.
This free offscreen/onscreen film event will only happen once during the fest – don't miss it!
Print courtesy of The Film-Makers' Cooperative.
Thank you Robert Schneider for your help.
---
About the artist:
Tony Conrad (1940 – 2016) was an American video artist, experimental filmmaker, musician, composer, sound artist, teacher, and writer. He was a pioneer of drone music and structural film. He was an important figure in the New York minimalist scene of the early 1960s, during which time he performed as part of the Theatre of Eternal Music along with John Cale, La Monte Young, Marian Zazeela, and others. He first became interested in filmmaking while helping Jack Smith create his infamous classic Flaming Creatures, and became recognized as a filmmaker in his own right for his 1966 film The Flicker. Other seminal film works include: Straight and Narrow (with Beverley Grant), Pickled Films, his Yellow Movie series, and more.
Tony lived and worked in Buffalo, New York where he was faculty at the University at Buffalo Department of Media Study for the majority of his academic career.
His artwork is represented by Greene Naftali, and his film and video works are in numerous archives and collections including Anthology Film Archives, The Film-Makers' Cooperative, Electronic Arts Intermix, Video Data Bank, and more. Recent solo exhibitions include Culturgest, Lisbon (2022); MAMCO, Geneva (2021); Kölnischer Kunstverein, Cologne (2020); Institute of Contemporary Art, Philadelphia (2019); MIT List Visual Arts Center and the Carpenter Center for the Visual Arts at Harvard University, Cambridge (2018); Albright-Knox Art Gallery, Buffalo and University of Buffalo Art Gallery (2018); Greene Naftali, New York (2016, 2013); Kunsthalle Wien, Vienna (2014); and Museo d'Arte Contemporanea, Villa Croce, Genoa (2013). His work is in the collections of the Walker Art Center, Minneapolis; Museum of Contemporary Art Chicago; Los Angeles Museum of Contemporary Art; Tate Modern, London; Museum für Moderne Kunst, Frankfurt; and the Whitney Museum of American Art, New York, among others.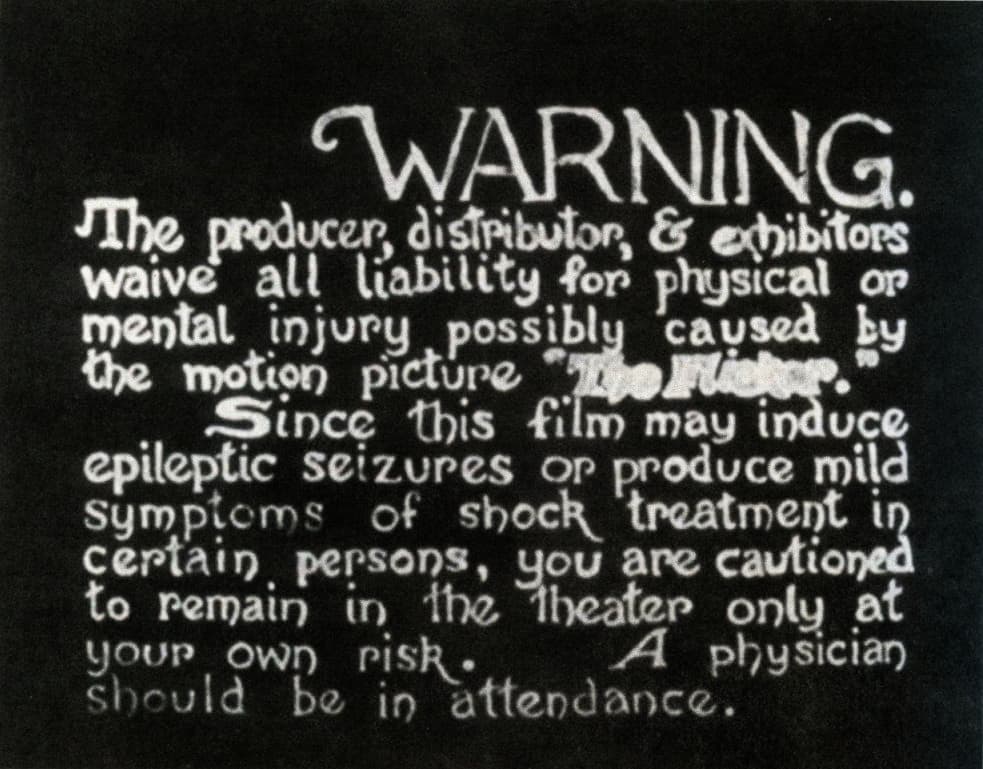 Still from The Flicker
Directed by: t0ny Conrad